Psst… Hey, you!
Yes, you, the market research professional. The one with the pained and bored expression on your face. The one working on a 100 slide PowerPoint deck filled with charts and graphs, the results of the latest 50 question online survey about consumer attitudes towards fertilizer usage.
What's that? Oh, you also did 20 focus groups as a component of the study? And you're trying to pick out a few verbatims "with sizzle", but are having problems because the group participants all fell asleep?
I feel your pain my friend. I was like you once. but not anymore.
What changed? Well, can I ask you a few questions first? I promise to be kinder than we generally are to our respondents!
OK, honestly now, have you ever thought "Surely there are others who think if the world's moved on, shouldn't research"?
Are you one of the restless masses of the market research industry that is bored with the status quo?
Can you imagine a future in which MR is a transformative force in the Board Room and in the living room?
Do you dream of a bright future where we put the consumer relationship first, create and leverage technology in truly innovative ways, and deliver real ROI to our clients?
Will you admit that you are tired of unoriginal and unimaginative "groupthink" about the role, methods, and uses of MR?
Would you like to see meaningful change in the MR industry and have a chance to join a group of like minded "comrades in arms"?
If you answered "yes" to any of those questions, then you may be a research revolutionary. In fact, you may be ready to join the Research Liberation Front.
What's the Research Liberation Front?
Can I trust you?
OK, I'm going to go out on a limb here because I think you're sincere and want to see change in MR. I'm going to invite you to a special gathering. You can only share this with other revolutionaries though! Don't fail me…
Listen closely
We have a secret meeting next week in New York City. It's called "The Big Speak Easy".

Why are we calling it that? In the days of prohibition, people had to meet in secret in "speak easy's"… to do and say things that couldn't be done or said in public. The state of market research today brings us to these same desperate measures. The future is not "there", it's here.

There will be a polemic debate on the purpose and sorry state of most research, a free for all open discussion, and plenty of indulgence.

The Big Speak Easy marks the first meeting of the Research Liberation Front (RLF) in the United States.

To attend, please register at: http://bigspeakeasy.eventbrite.com

(password: speakeasy)

For more information,
Come join the revolution! Set research free.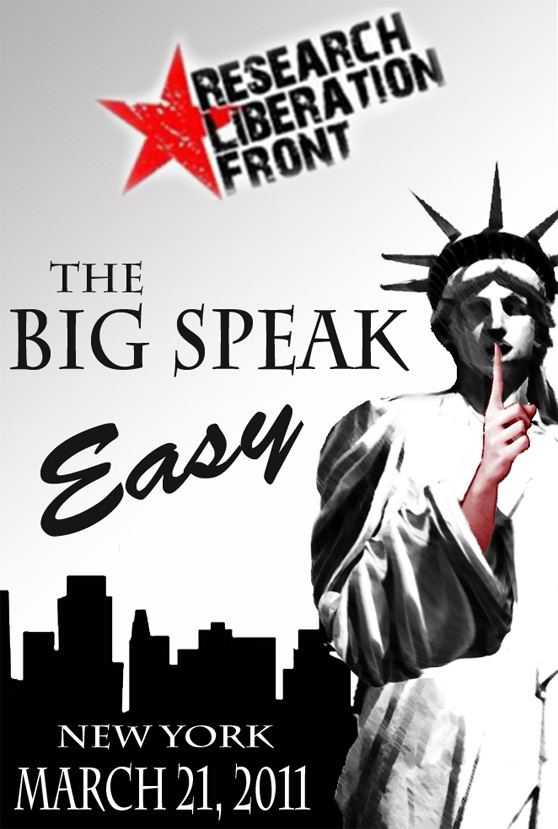 Please share...